Alice Donut Store Is Now Open:
To Browse the new Online Store click here
---
The Alice Donut's 25th Anniversary package is here!
---
CMJ 2011: Film Screening, NYC Premier
"Documentary : Freaks in Love"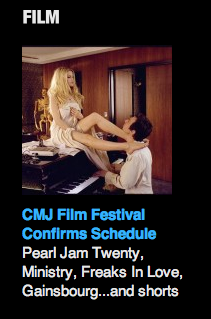 What: CMJ Film Festival 2011

Where: NYC, NY
Soho House Screening Room
# 29 - 35 Ninth Avenue
New York NY 10014 USA

When: Friday, October 21, 2011
7:00 PM…must RSVP

Documentary - 100 min.

Q&A with Skizz Cyzyk, David Koslowski and members of Alice Donut following screening.
---
Film Screening & Live Show: 09.24.2011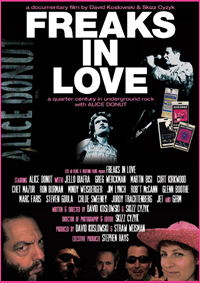 What: Philly F/M festival

Where: Philadelphia, PA
@ Invincible Pictures Sound Stages

When: Saturday, September 24th 2011

This is 25 years in the world of underground rock, as seen through the eyes of freakshow psych-punk band Alice Donut. From the glory days of CBGB to grinding nationwide tours in beat-up vans to the big time (sort of) opening for Blind Melon, Alice Donut lived indie music. We know the story of the bands that went international, led by Nirvana, but Freaks in Love is the story of the rest of the scene. Featuring Jello Biafra and the Meat Puppets.

Documentary - 100 min.

More Info >>
Watch the Trailer:
From the filmmakers SKIZZ CYZYK (Director, Editor & Director of Photography), DAVID KOSLOWSKI (Director & Producer), STEPHEN HAYS (Executive Producer) and STRAW WEISMAN (Producer)
FREAKS IN LOVE :: A Quarter Century in Underground Rock with ALICE DONUT from Duotone Films on Vimeo.



Latest Releases:

Available in stores for Record Store Day- Saturday April 21, 2012- across the planet! Last Mailorder copies sold out after only 4 days at Alernative Tentacles! Only 500 copies made! Get it on iTunes now!
Virus439 (2012) CD + DVD - out of print

On October 12th 2010 Alice Donut released a new Split Single with Free Electric State as 7" vinyl, called Beer and Mullet.

Alice Donut have returned to Alternative Tentacles for the release of the 10th full length album, "Ten Glorious Animals" (although the digital release will handled by Howler).
"Ten Glorious Animals" has been released on September 22 of 2009 as CD & LP.
Ten Glorious Animals is Alice Donut's most excellent 10th full-length release, marking the return of the band to the label they started on. AD are a strangely perverse, wonderfully eccentric and uber-creative band, and I've often pondered why they haven't attained the legendary status as their psycho-delic musical soul-mates, the Butthole Surfers. They've certainly worked hard enough at it over the years; genre descriptors for their post/prog rock are "Bent Psych Freak Pop" and my favorite, "Psychedelic Punk". - Blurt-online.com
Alice Donut was a band that rode beneath my radar back in the day; I was always aware of them, and had heard them, but never really listened to them. Now with the release of Ten Glorious Animals, I am planning on remedying this, and thinking about looking back at was I missed. - Ryan Cooper, About.com
"Every so often…reviewers find that 1% of beauty, which completely catches them off guard and confuses them with revitalizing astonishment. Alice Donut's new album, Fuzz, falls in that 1% of greatness, combining mesmerizing song-writing with unpredictability and originality." - The Yellow Rake
"A penchant for penning melodic tunes that stick in your brain like a stainless steel scalpel knife." - AMG